SEO commonly known as Search Engine Optimization and PPC known as Pay Per Click. The outcome of using both the concepts are same with the same end goal that is to be at top in terms of visibility ranging on google, bing etc by acquiring new and different techniques, tools, concepts and methodologies.
SEO is a process which is used to improve quantity and quality of a website or web page by generating website traffic which is unpaid instead of paid traffic, so that it can be shown at 1st page in google search engine (Bing, Google, Yahoo etc). The process of SEO relates to online content and SEO health to get a higher rank on google. People use to search almost everything on google these days and if people discover a particular content online which leads to increase in website traffic is known as website optimization.
Keyword Search
Content
Rankings
Backlinks
databases
Domains
Tools
Reports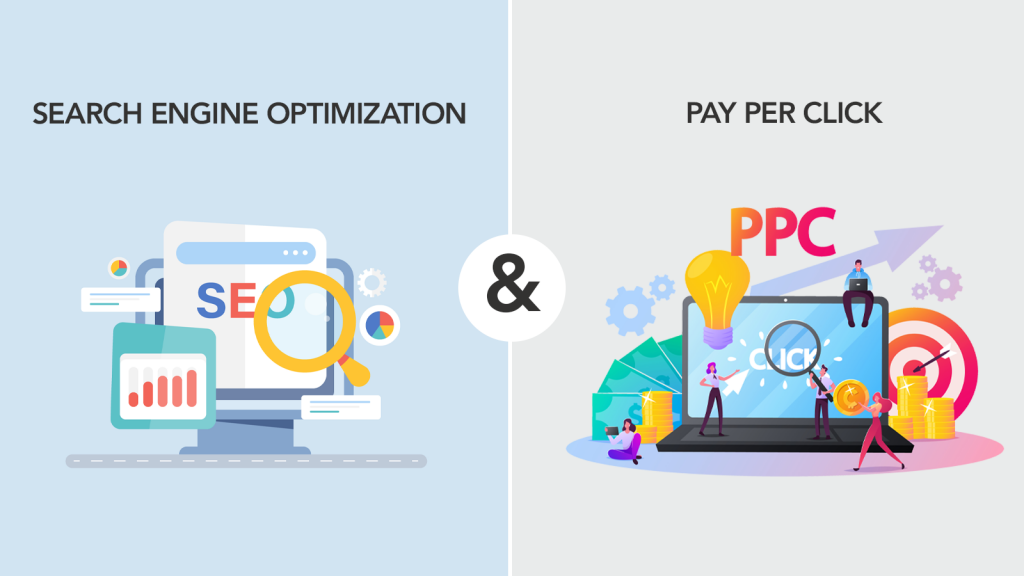 SEO Tools :
These tools help us to know our weaknesses or issues where we are going wrong in order to get them correct in terms of visibility and ranking in the SERPs. It also provides data with alerts about the health and success of the website so as to uncover new areas and opportunities. By implementing unique online content anyone can improve website visibility in relevant searches.
Explore SEO Individually :
Know the goal
Keyword research
On Page & Off Page SEO
Identify UX signals
Content Creation
Link Building
PPC
It is a process which is used to drive website traffic by using internet marketing and advertising models. The publisher gets paid by the advertiser for each and every ad when clicked. It shows a procedure of buying visits to a particular website instead of achieving organic visits. It is known as the most famous form of advertising and marketing approach. The other word for PPC is Cost Per Click model and is offered by social networks like facebook and Google, Bing and Yahoo.
Popular types of PPC :
Remarketing
Search Advertising
Social Media Advertising
Sequential Remarketing
Google Shopping
Display Advertising
Affiliate Marketing
Website Advertising
In terms of Social Media PPC is a paid digital marketing and the purpose is to provide placement platforms. Facebook Ads Manager helps in creating own PPC ads in the form of videos, images, photos and ads etc. It can be used to generate the concept of scarcity, efficiency, economic growth, efficiency and contractions. After replenished advertiser budget the ad will itself be removed from the website's rotation. Google ads are affordable form of marketing and can help in growing business by generating leads and sales
In Google Ads, the account is broken down based on different campaigns. Facebook has powerful tracking insights as compared to Google ads which seems faster in terms of reaching potential targets. The are variety of PPC ads which can be seen on web pages, mobile apps, social media platforms :
Local Search Ads
Search Ads
Display Ads
Remarketing
Banner Ads
Difference between SEO and PPC :
There are two key contrasts while thinking about SEO or PPC. Firstly paid promotions show up at the highest point of the page, over the natural postings impacted by SEO. Secondly traffic from natural through SEO is free, though traffic from PPC has an expense for each single click
Website optimization is a strategy for expanding a webpage's natural traffic through upgraded optimization and website authority. Again pay-per-click promoting looks to produce traffic through carefully made and designated adverts in web search tools, social and other famous web platforms.
It is evident that SEO navigate rates are higher than PPC, implying that it can possibly drive fundamentally higher volumes of natural traffic your direction. Moreover, your expense per procurement (CPA) will be a lot lower utilizing SEO than PPC.
While PPC doesn't straightforwardly affect SEO, it does in a roundabout way assist you with further developing your SEO campaigns. By putting resources into both PPC and SEO, you'll assist with making a firm promoting effort that develops your business.
On the off chance that you do both of these things for that specific keyword, upgrade your site and buy PPC promoting you are guaranteeing that your image overwhelms the query items, and that you have a superior possibility at catching those important snaps.