Today we are going to discuss the use of Mobile applications in different sectors. In order to get an understanding of the topic below you need to go through the previous blog as it clearly depends upon the same. You can easily access the previous blog by simply clicking on the provided link :
BLOG LINK : https://www.mcnsolutions.net/blog-post/mobile-app-development-process/
A mobile is simply a computer program/software application that is designed to run on a mobile phone or smart devices. There are basically three types of Apps which are currently in use for Mobile application development and we have already discussed them in our past blog are as follows :
Native Mobile Apps – They are native to a single platform.
Hybrid Mobile Apps – They can be installed on devices but able to run through browsers.
Web Apps – That runs on a web server
In our previous blog we have mentioned about the popular mobile software today we will discuss the categories of the Apps. Most widely used applications are WhatsApp, Google Maps, Facebook, Snapchat, Instagram, Pinterest etc. Commonly used softwares are system software, programming language software and application software that possess individual specific functionality. Below are a few areas where the use of mobile applications is clearly seen.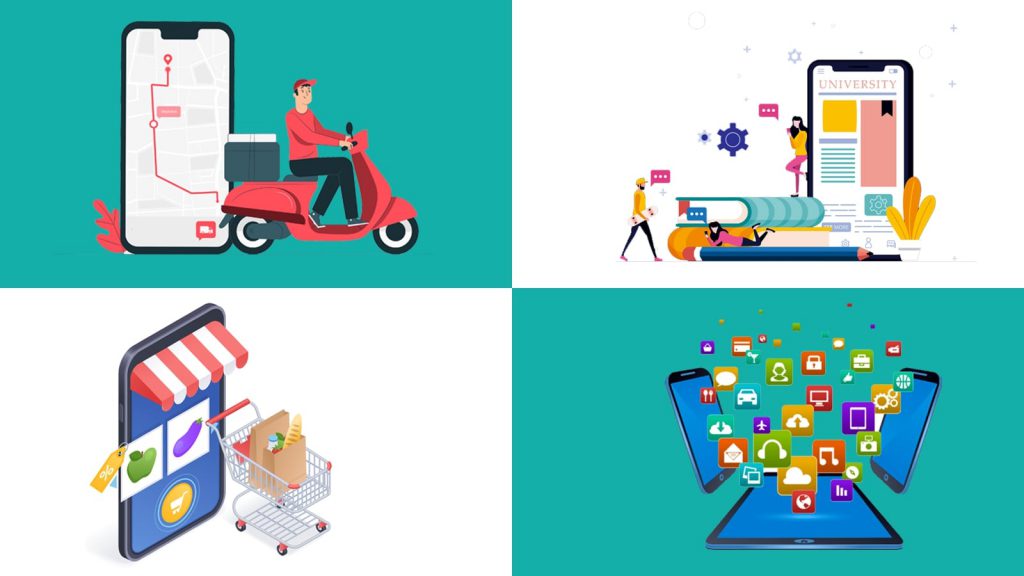 Entertainment Apps – It comprise of a wide range of activities which truly leads to leisure Music, Magazines, video, Books, games, TV and movies are the best examples of multimedia applications and these apps can be downloaded easily by Google Play Store, Apple App Store and Amazon App Store
Youtube
Ted
Dubsmash
Netflix
Google Play Books
Pandora Music
Business Apps – In Business, mobile applications are used for accounting, payroll, point of sale, communication and project management and are helpful to run an enterprise efficiently and save money and time. Business owners provide customer service through mobile applications in order to add value and money. Below are few B2B Mobile Apps for increasing Business demand are as follows :
DocuSign
Google Analytics
Asana
LinkedIn Pulse
HootSuite
WebEx
EverNote
Salesforce Mobile
Utility Apps – These are the mobile apps that are used for putting reminders, flashlight, calculator and weather.
Educational Apps – Educational Application helps students to grab knowledge with regards to different perspectives. It proves to be challenging to students while performing puzzles, educational games and tasks. Few important applications are as follows:
Google Classroom
edX
Photomath
Remind
Quizlet
SoloLearn
Khan Academy
Gaming Apps – Mobile games can be downloaded from app store or from mobile app operator's platform to smartphones, smartwatches, tablets, PCs etc. 5 important applications commonly used are :
Twitch
5 Apps
Steam
IGN
Xbox
Travel Apps – It is a travel guide which attracts visitors to local attractions, events, sights and insider tips. Also used to share the travel experience in the form of reviews and recommendations. Few top applications are :applications commonly used are :
GateGuru
Yelp
Skype
Autostitch
Hipstamatic
Lifestyle Apps – It is used to support business for peoples who shares lifestyle, fashions, culture, recreation, news, leisure and health applications commonly used are :
Health Tap
Moodpath
ShopWell
Fabulous
Elevate
Health Pal
Operating System – Most commonly used operating systems are Android, Apple macOS, Applie's iOS, Microsoft Windows and Linux. There are basically four types of App components : services, activities, broadcast receivers and content providers. We are using a special kind of mobile platform which enforces HTTPS with modern encryption and trusted certificates.
There are approx 2.87 million mobile applications available for download on Google Play Store.
Following are the programming languages used in mobile app development :
Kotlin
C#
PHP
Objective-C
JavaScript
C++
Python
Swift
Conclusion : To deliver high quality output scalable custom software applications is a speciality at MCN Solutions. Streamline phase is flexible, easy to adhere and fast to proceed with unique custom support